Moss Agate Tower Crystal Wand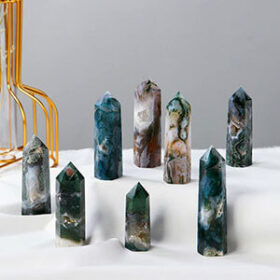 Size: 2-3.5in(5-9cm); Width: 0.7-1in(1.8-2.5cm)
What you get: A unique aquatic green moss agate crystal tower – natural healing crystal wand. Each item is natural.
The height of the moss agate healing tower is about 2-3.5in(5-9cm), and the width is about 0.7-1in(1.8-2.5cm).
Moss agate crystal tower meaning: Each moss agate point tower has a unique pattern and color that emits a magnetic field of positive energy to purify your surroundings.
Moss Agate crystal brings you a sense of comfort and joy, making it easier to discover the beauty of life.
You can find more large moss agate towers here.