As the most potent force in the world, love is a source of colourful life which is essential to our life as the air we breathe. Love has the strong power to connect all of us, and it can enhance us to better ourselves.
The love story is always unique; for some of us, love is always colourful and full of meaning. While for others, it is painful and even a struggle.
The road to love is not smooth, and almost all love stories are full of twists and turns and ups and downs. Some love is full of a lifetime, and some are fleeting. Love manifests itself in many different ways, love for a partner, love for parents and children, love for friends around you, love for humanity as a whole, and love for animals. People full of love inside are often passionate about life and can receive love from the outside world with a keen sense of emotion.
Among all the love, the most important one is self-love, the recognition and acceptance of oneself and the belief that one is worthy of being loved. Self-love is the foundation of all love, and it guides us to build stable relationships with others despite the complexity of human relationships.
Find the Best Crystals for Love
No matter what love matters to you and what seeking a soulmate means to you, for those who are ready to accept unconditional love into their hearts, why not turn to the help of healing crystals to find a healthy love relationship.
Healing crystals have the potential power to repair a broken relationship, open your heart chakra, and attract a whole host of loving and abundant people to energize you.
When we want to work hard to realize our dreams, we need to use the power of healing crystals to concentrate on ourselves. When you are ready, crystal can take you into a state of harmony, so you can better accept the love you have been pursuing. Some crystals can attract love, some crystals can improve your relationship with your partner, and some crystals can make two love hearts get closer.
As for the most critical self-love, healing crystals can still help. It allows us to listen to the body and soul and know when we put our needs first. When we know how to love ourselves, we can better deal with our relationships with others. If you are ready to use crystals to attract love you deserve in your world, continue reading to find the best crystals for love.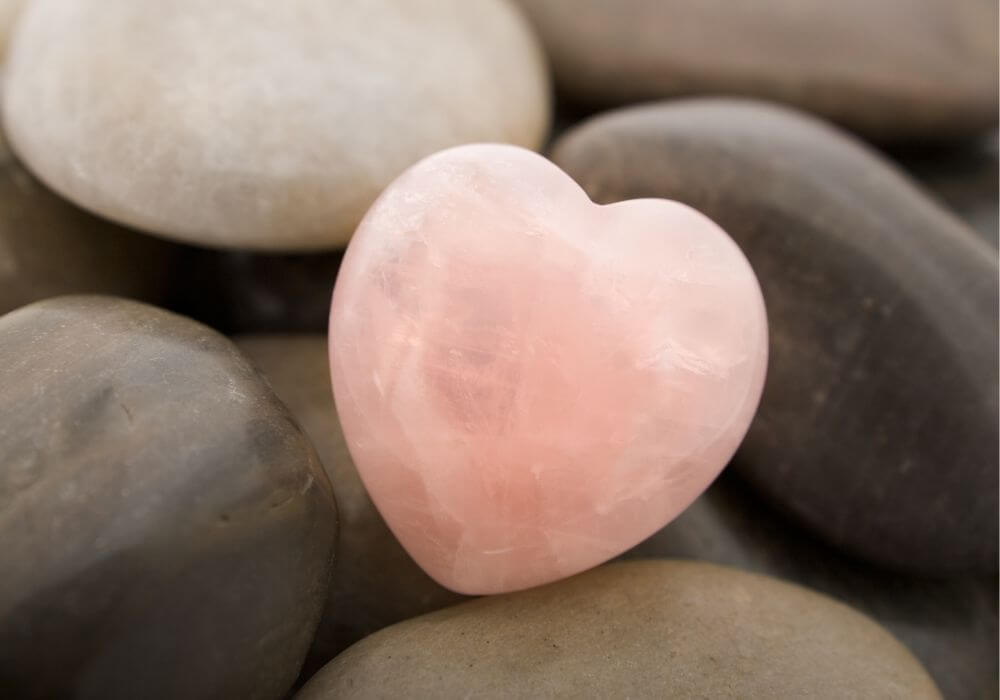 1 Rose Quartz for Unconditional Love
Known as the love and heart stone, rose quartz is a romantic pink gemstone that belongs to the most mainstream of the quartz family. Rose quartz helps us to open to all forms of love. It has the feminine energy of compassion and peace and stands for unconditional love in its meaning.
As a gentle and nurturing stone, rose quartz helps your heart chakra open. This pink gemstone's healing properties are full of love and romance magnets.No matter your situation, rose quartz can almost enhance the love relationship. If you are looking for unconditional love in all aspects of your life, rose quartz is what you want.
It has strong love and romance spirits around its vibration, no matter if you use raw rose quartz, rose quartz crystal jewellery, or just put a piece of rose quartz stone in your pocket, you will feel the magic power of this pink quartz.
Rose quartz stone is a magic crystal for self-love, resonance and boosting your skills of interpersonal communications. These characters are vital if you want to have a relationship with others. You can use rose quartz to heal your broken heart and attract your soulmate. The beautiful pink stone has soothing energy to help you easily solve side feelings. The grounding energy helps you associate with your inner heart so you can accept yourself and love yourself.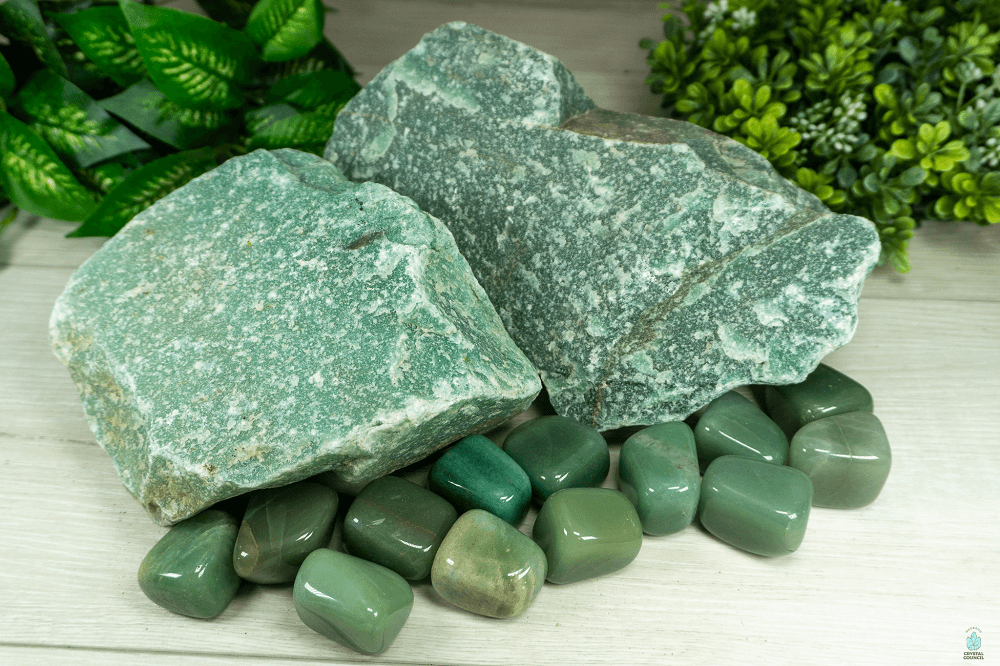 2 Green Aventurine Brings Luck to Love
Green aventurine is a stone for luck that can change your destiny. Green aventurine meaning is deeply associated with strength, confidence, courage, and happiness. Although pink comes into mind when we talk about love, green is a more accurate representation of the heart chakra. Since it can activate the shades of the heart chakra and bring you luck, aventurine crystal plays an essential role in seeking a new relationship. It helps you become confident, encouraging your luck and motivating you to attract new love. Green aventurine has impressive power to help you succeed in every aspect of life, including your romantic relationship. It empowers energy and power in your life to make your dream come true. Aventurine crystal works from wealth to love and passion. To have a better performance, we recommend you take a piece of Lapis lazuli with green aventurine on your side.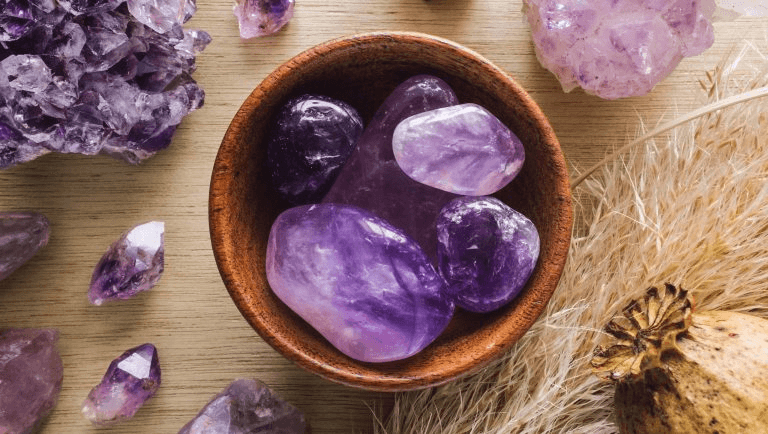 3 Amethyst Crystal for Self-love
The rich quartz of the amethyst has abundant lavender colour and purple crown chakra, and it is one of the most famous crystals for love and soulmate. Amethyst crystal represents serenity and peace, which is a powerful stone for nurturing self-worth. With its great strong healing properties, the amethyst stone has soothing vibes exactly where they are needed. The soothing shades of purple can keep you confident when you lose your heart. It also can heal your emotions when you feel the fierce pain of a recent breakup. How can you expect anyone else to love you if you can't love yourself?
Self-confidence is closely related to the root chakra that makes us grounded and strong. It is also connected to our inner selves. When one becomes confident, they will have the ability to love themself. Therefore, the amethyst is also a magic crystal for self-love. It can help you realize your advantage and find confidence waiting for us, even if it is buried under insecurity. With amethyst crystals around you, you will get all forms of love. For more information about amethyst, please read here.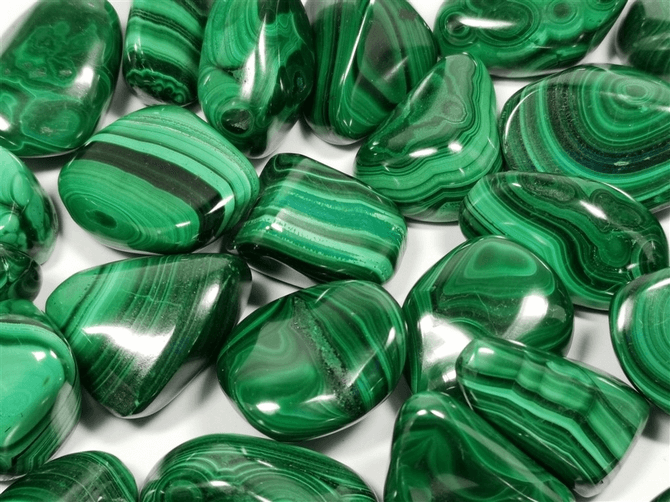 4 Malachite for Starting A New Relationship
Malachite is an ancient gemstone that resembles a green spot on peacock feathers. When it comes to choose crystals to attract love, malachite is a love crystal that you can't miss out on. As another great stone for love and romance, malachite crystal can enhance honesty and trust in one relationship; meanwhile, it can also help you recover from betraying so you can start a new relationship. Known as the love of stone, malachite stone encourages you to trust yourself first, and it also has strong vibration to protect you from evil on physical as well as mental. So malachite can promote stability and security to balance all aspects of life.
The green colour of malachite comes from the green stone family, which has a deep connection with our mother earth with great healing properties. It will help you attract and prepare for your true love.
So putting a piece of malachite jewellery on your body is an excellent way to balance all energies. It is good to remove anxiety and fears of love.
5 Lapis Lazuli for Better Communication in Relationship
For any good relationship, communication is the key. Luckily, Lapis lazuli is a stone for that. As a most powerful stone for love and romance, lapis lazuli can built a bridge between you and your loved one so as to get the same pages as you. This lapis crystal will help you understand the meaning of true love and provide sympathy and understanding energy, which is the basis of good relationship with your partner.
Lapis stone is deeply connected with throat charm, and it boosts you to share your truth with the surrounding world. One will better show ourselves when we feel understood and heard. Therefore, it's a perfect gift for those who forget the feeling of love. Lapis lazuli crystal can help you improve your relationship with your business partner, and it's also ideal for those who work under stress.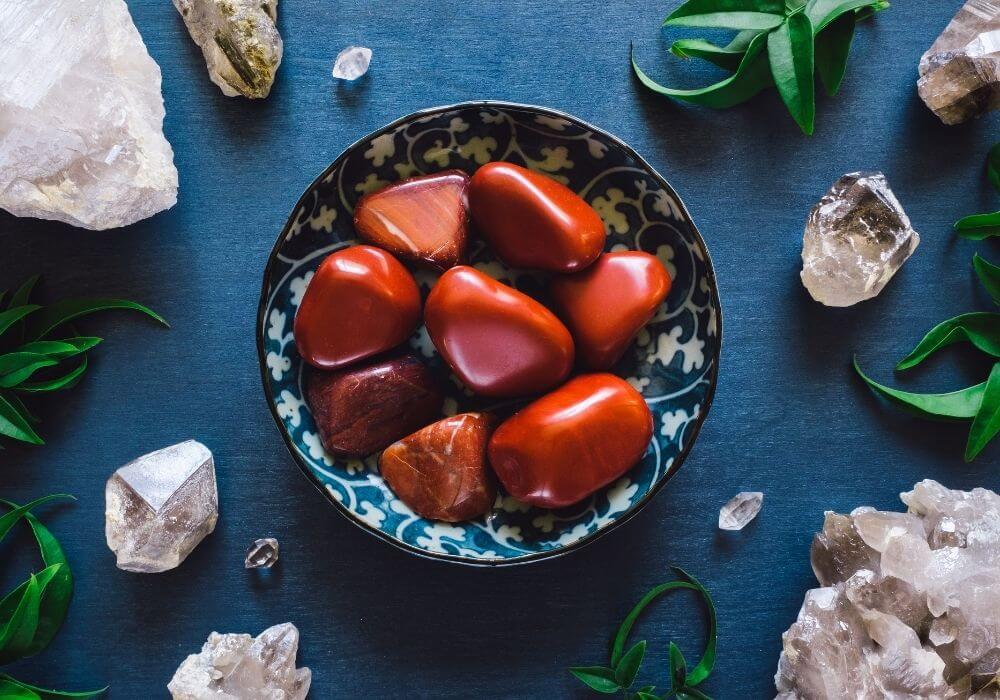 6 Red Jasper for Restoring Passion in Love
Red jasper stone, belongs to the chalcedony mineral class, has colours in red ranging from bright red to deep red. The red jasper meaning is associated with ground, passion and protection. Red Jasper may be the right crystal for you if you get tired of dating others. It can give you confidence and charm as you're ready to date. Red Jasper crystal is a stone of passion, and it can raise your passion vibration when you are ready to seek romance. The red jasper crystal makes you full of charm and enhances the spark of your body to attract potential partners to you.
What's more, red jasper is a stone for passion. It can be used in sexual relationships to keep everything in harmony! It is said to have a powerful effect on the libido of both sexes and can also be used to increase fertility and potency. There are many forms of red jasper, so you can place tumbled red jasper or raw red jasper in your room or wear red jasper jewellery for more benefits.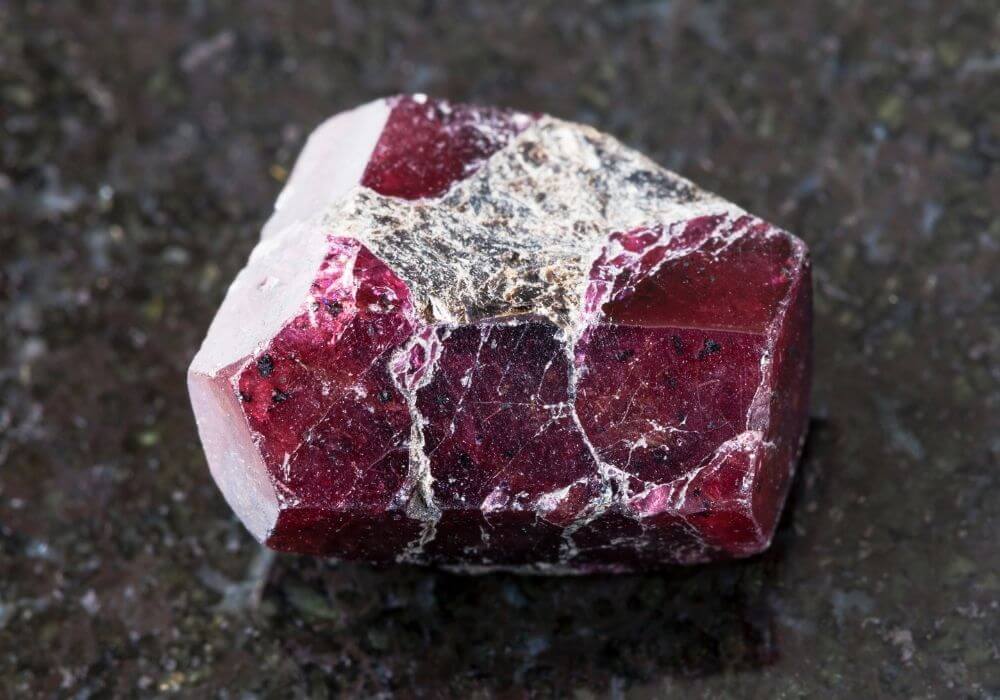 7 Garnet to Ignite the Fire Within
As a strong red stone, garnet is famous for its great ability to bring protection and love to the relationship. This red crystal gemstone can take passionate energies to your heart, igniting the fire within. This is the foundation for building a healthy relationship with your loved one. If your relationship is influenced by something, this garnet stone can also benefit your romantic love. The hot passion and strong vibration push you go out of your comfort area so that you can view things in other ways and can better understand others.
Garnet stone is a piece of bright stone which can keep you concentrating on what you are doing and improve your learning efficiency.
Garnet can promote honesty in a relationship. This magic stone can help you solve the wound and move forward if others have cheated you. It can help you rebuild the trust of your loved ones, and it can also remind you that most things in life are not past conflict. What matters to your happiness is your attitude toward love. So wear or take a garnet stone with you and keep the focus on your love.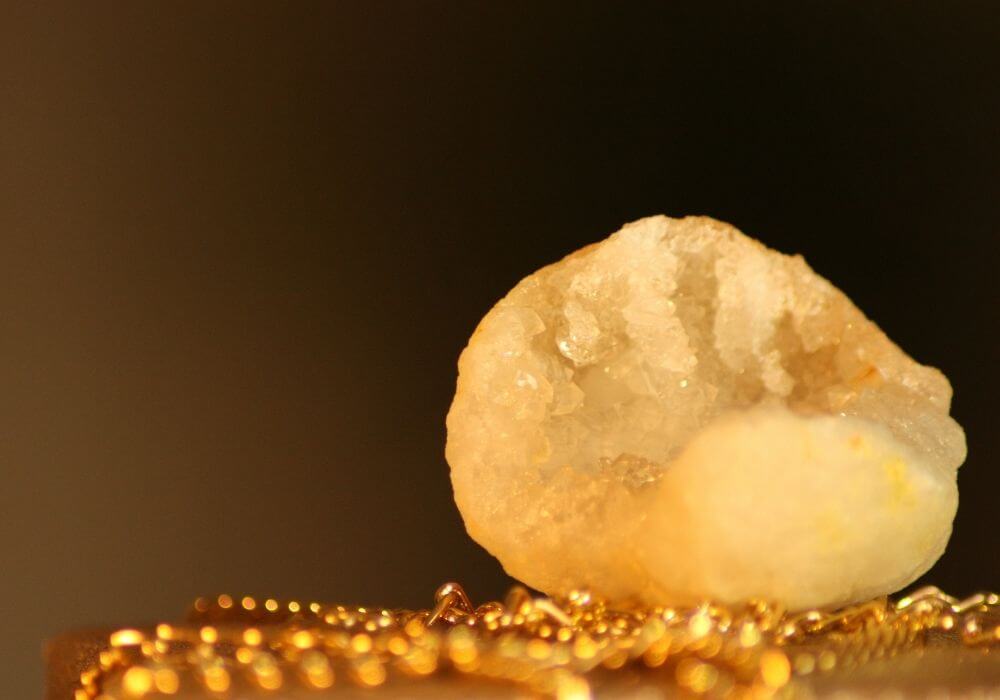 8 Citrine Makes Love A Happy Place
Citrine is the strong, attractive crystal of love and happiness, one of the best crystals we want in our lives. Citrine gemstone has unique golden light and joyful energy that remind us that love can be a glorious and happy place. It integrates love into our lives and works to attract the pursuit and make love flower. For those who are on the edge of interpersonal communication and lose confidence in love, citrine allows you to feel the warmth of love again. It brings cleansing, vitality and warmth into our life.
Citrine crystal ill help you think more clearly so that you make the right decision.
Citrine jewelry can also offer excellent protection to the wearer, and it will prevent any emotional or psychological threats and negative energy.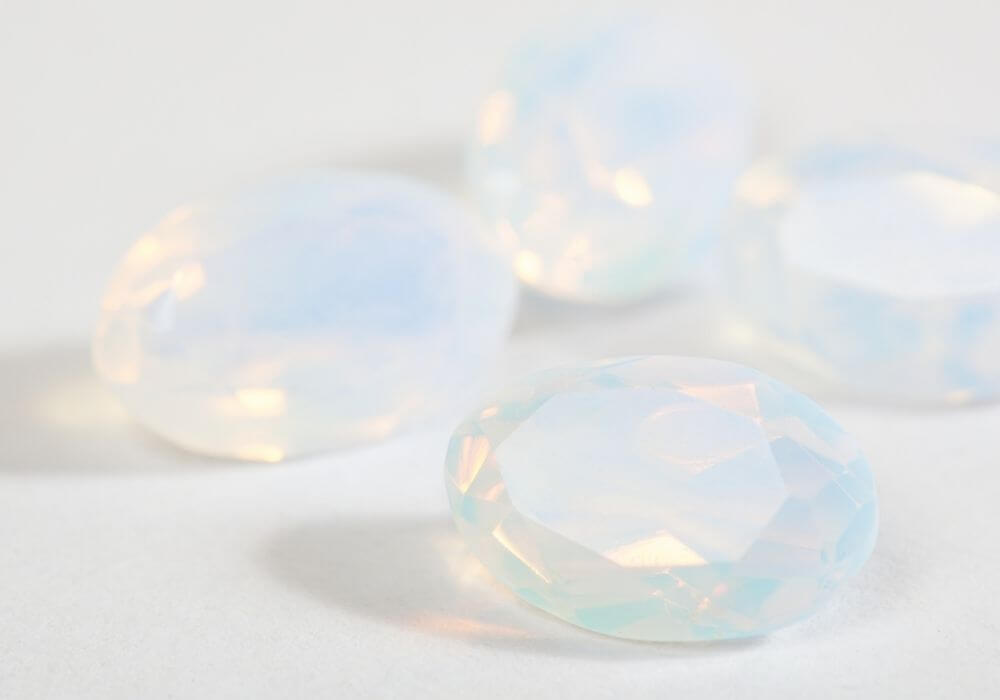 9 Moonstone Helps Reunite Lovers
Moonstone is a perfect crystal for love which can bring your inner peace and calm that help you enjoy your relationship with your partner. The soft energy of the moonstone brings harmony into relationship to all those who choose her. Therefore, it is good to balance emotions rather than just focus on them. Known for expanding the stones of love, moonstone always calmly reminds us that even on the dark road, there is always a ray of light on your way.
This white gemstone reminds you to trust your intuition and follow your heart, which is vital when you make decision in romance and relationship. You can use the moonstone jewellery by wearing it around your neck. Thus, you will balance yourself by getting rid of tension in the heart, physical and thoughts.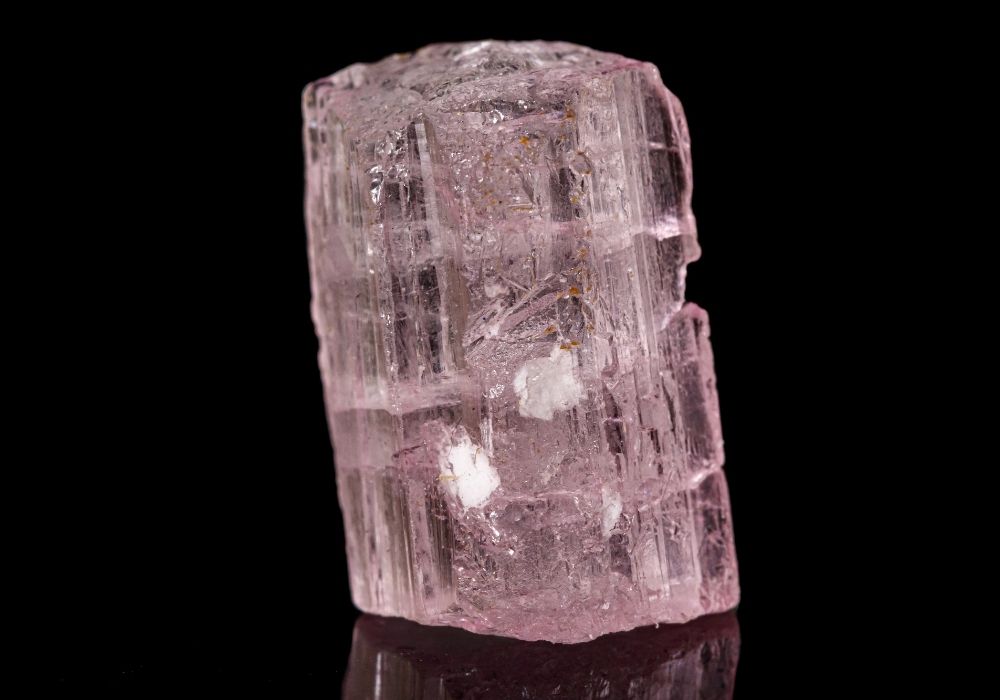 10 Pink Tourmaline Brings Love and Romance into Life
Pink gemstones are associated with emotional well-being and heart chakra, and they have plenty to offer to the wearer. So as pink tourmaline to your life and relationship. Pink tourmaline has too much to offer, and it can bring positive energy to your love and romance. And it can repair your existing relationship.
Pink tourmaline stone represents love and heart chakra, and it has soft grounding energy that can connect your physic into your inner heart so that the broken heart will be repaired.
The beautiful pink tourmaline is good for calming your mind and emotion, and it brings stability and connection to your love relationship. Hence you will enjoy a stable relationship with your partner. The pink tourmaline meaning is closely related to unconditional love, so wearing or carrying this stone around can help your relationship develop in a positive way. Pink tourmaline can promote trustfulness and loyalty in any relationship, especially in a romantic relationship. So it can help you be hopeful and joyful even in a hard time.
How to Use These Crystals for Love
Wear as jewelry
Place them around your home
Using them in rituals
Place on the heart
You already have your list of sparkling and glory-filled gemstones by reading the above. The crystal stone guides enable you to understand and utilize the positive energy of the stone and lead love in the direction you want it to go. One of the best ways to make use of a gemstone is to wear it and accept it from within. When a stone is in intimate contact with your body, the rich vibrations penetrate every inch of your skin. This allows the stone to keep the chakra clean and keeps your body in tune with the universe. Placed in your living environment, the powerful positive energy of the stone can calm and soothe your emotions and keeps them stable. This is essential to maintain communication between partners. You can also place the stone aside for meditation or place it in the heart to feel the powerful healing power of the stone.
Summary:
Crystals play an important role in affecting love and relationships if you use them properly. What matter are you should know which stone is best for love. The proper use of gemstone for love can improve not only your relationship with your loved one but also enhance your ability of self-love. When one has the ability to love self, and they will be better equipped to attract trust, prosperity and love that fulfil our life.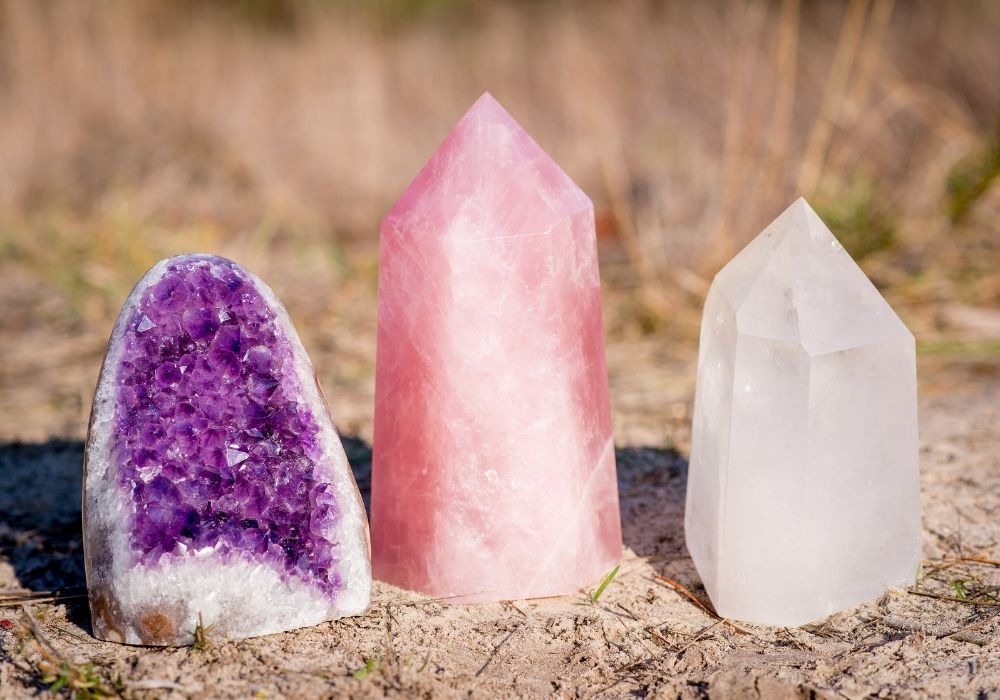 Crystals for Love FAQ
#1 How to Use Rose Quartz to Attract Someone?
Using crystals to attract a specific person is very easy as long as you know how to use gemstone like rose quartz.
Wear the rose quartz
Some like put your rose quartz in their pocket, others wear a rose quartz necklace around neck. The important point is you should make the stone close to your heart.
Use morning self-love ritual
Self love is the foundation of all love, you can use the morning self-love ritual for generating more self-love. Just lay on the mat with two hands hold the rose quartz. You will feel the warmth surrounding you.
#2 What Crystals are Good for Love?
The crystals that connect with the heart chakra are good for attracting love. In general, the colour of stone can also influence the relationship between lovers. Pink crystals can emit strong vibrations with a gentle energy that is good for love. Green gemstone is also related to the heart chakra, so green aventurine will also work on love.
# 3 How to Charge Rose Quartz Crystal for Love?
We know rose quartz represent unconditional love, so it's worthy talking whenever it comes to crystal for love. With many times of use, rose quartz should also be charged for better performance. Full moon is the gift of universal, and it has strong energy. you can leave your rose quartz crystal outside in the moonlight overnight to absorb energy.
#4 How to Make a Crystal Grid for Love?
A crystal grid deep on sacred stone and strong focused energy to create intention in our lives. The crystal grid can encourage energy flow in a space and within our aura, and it can bring healing properties to the broken heart.
As to the question on how to make a crystal grid for love, the first and foremost is to know your intention. Only in this way can you know what to do next. If you look for rich love properties, you can choose rose quartz, Aventurine, and garnet. And then choose a shape of the sacred stone, then place it in your living environment.